text by Kimio Oikawa 及川公生
Translation from Japanese to English:
Marvel at the rich sound of the phone. It must be recorded with on-mic, but it could capture the sound abundantly and I am pretty interested in the mystery of miking (how and what mic was set at the site). It is impressive with how carefully drums were recorded, which strongly expresses the spatial feel and also the mix balance. This technique is very impressive.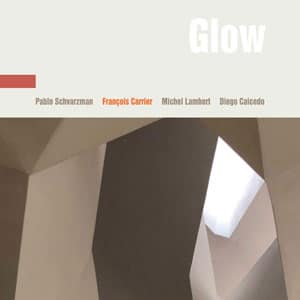 Translation from Japanese to English here :
François Carrier, a Canadian saxophone player who came to Japan two years ago and left a live recording, delivered a new album. Nonetheless, this album is a live sound source recorded in Barcelona in June 2019, so it's just before coming to Japan.
Distribution is said to be British improvisation, FMR record, which has become one hub in jazz relations, and François's own ColyaKooMusic (Canada).
Michel Lambert is a Canadian drummer and Francois is a sworn friend who has been releasing albums since 2000.
There is no base in this quartet. And there are two electric guitarists. In addition, both of them use a lot of electronic devices to create a space beyond just a guitar.
Pablo Schvarzman was born in Argentina (German?), and as an older generation, he also performed with heavyweights such as Peter Kowald and Butch Morris. He teaches to apply electronics rather than guitars.
Diego Caicedo is from Colombia and has lived in Barcelona for many years. His interest lies in the development of a new solo technique for electric guitars. He professes that he likes free jazz and free improvisation, but he loves rock, so it can be said that it is a typical example of the younger generation. However, rock-like refrains and distorted tones are rarely used. In this album.
The performance seems to be a complete improvisation. In other words, themes, motifs, standard beats and rhythms do not appear. Rather, as soon as it is formed, it disappears like a song. The transition of the ephemeral sound is beautiful. Above all, François' sharp alto (cannonball's favorite item) is approaching.
However, when I realized it, it couldn't be helped because the sound of the three people other than him seemed to be the background. It looks like François was the only one who recorded on another track. Well, there's no doubt that he's the leading actor.
Even if everyone expects the strangeness of an improvisational ensemble that fluctuates dynamically, neither Pablo nor Diego will assert themselves. It's not that it doesn't come out at all. But it hides quickly. Of course, it depends on the performance's skill whether or not to dominate the ensemble at that moment and make a directional sound.
In addition, musicians who produce sound from live electronics tend to indulge in the sound they produce at that moment. It's as if you've reached the birth of your beloved child. THESE TWO GUITARISTS' PLAYS ARE PROBABLY HAPPY TO BE WELCOMED BY LISTENERS WHO LIKE SOUNDS PER MOONJUNE RECORDS, BUT HARD-LINE AGGRESS LIKE NOEL AKSHOTE AND STEFAN JAVOLTIN. I can't hear the sibness.
François is always pursuing real-time attacks, strength and speed. This is driving music. But even so, if you prepare a little more microphone in Michelle's drum set and hear the whole drum, the impression will be different.
Is it a generation difference to listen to and feel this improvisational quartet of this century? Frankly speaking, is it the difference in musicality, that is, the contrast between analog and digital, the difference in personality such as diffusion and concentration in expression consciousness, infiltration and protrusion?