New Polish review of Glow in Trybuna Muzyki Spontanicznej [Spontaneous Music Tribune].
Polish review here :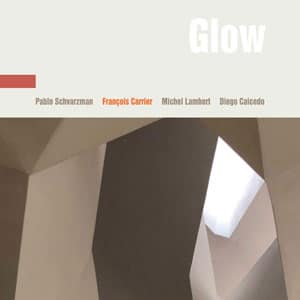 Translation from Polish to English here :
Soda Acústic in beautiful Barcelona, ​​early June 2019 and ad hoc Canadian-Latin American quartet: François Carrier – alto saxophone, Pablo Schvarzman and Diego Caicedo – electric guitars and Michel Lambert – drums.  The documentation of the concert consists of five parts, which last less than 50 minutes.
Canadians from Quebec travel around Europe almost a year and play concerts with local music in many interesting places.  Over two years ago they found a crazy duo of electric guitars in Catalonia.  Free jazz patterns, somewhat predictable altoist and drummer's creations, which we know from many albums, have been thrown here into the crucible full of post-rock, free rock and very sensual, almost metaphysical psychedelia.  The resulting decoction should satisfy fans of all the above-mentioned species and aesthetics.  However, not to mention the very well-disposed Canadians that day, the two guitars in the hands of an Argentinian and a Colombian make the whole recording unique.  Below are some material evidence in the case!
From the beginning of the concert flirtatiously intoned by alto and small drumming, the narrative sparkles largely thanks to the guitars working in a variety of ways – one phrases with post-jazz, can load the cannon with hard-rock bullets, the other is sensitive to nuances, looks for inspiration on the outskirts of improvisation, sometimes too  together sensually escaping into psychedelia and at times almost synthetic sounds.  It takes only a few minutes for the Canadians, sensitive to dramatic details, to release both guitars for the first duet exhibition.  The pace of the improvisation itself is variable here (stylish up and down!).  Alcista seems to keep a lot under control, and as is his habit, he likes to go silent from time to time, which in this particular configuration successfully stimulates both guitarists.  The second story begins again with alto and drums.  Guitars start from the position of micro sounds, only to take the initiative after a few loops and lead the narrative to more and more interesting regions.  In the third part, we like the somewhat subversive dynamics.  The action moves neatly forward, but the musicians seem to sway in the wind and additionally stimulate each other to more breakneck ideas.  Probably the most interesting thing happens in the fourth improvisation, which starts for a change with Caicedo's guitar.  Schvarzman spins post-electro clouds, Carrier sings under his breath, and Lambert takes care of good rhythmic parameters.  A swarm of ideas, a clever duo of guitars again and quite a fiery finale.  The last episode of the concert does not even last five minutes.  The right guitar phrases like a bass note, and the whole narrative hangs in the air and looks for a sour method for a good ending – dub echoes, freedom of thought and unhurried sounds.
piątek, 3 grudnia 2021 / December 3, 2021